國際創投齊聚2022亞洲生技大會
PwC 、Taiwania Capital Management Corp、WI Harper Group、 8VC 、 Canaan Partner 、 Domain Associates 及 O'Melveny.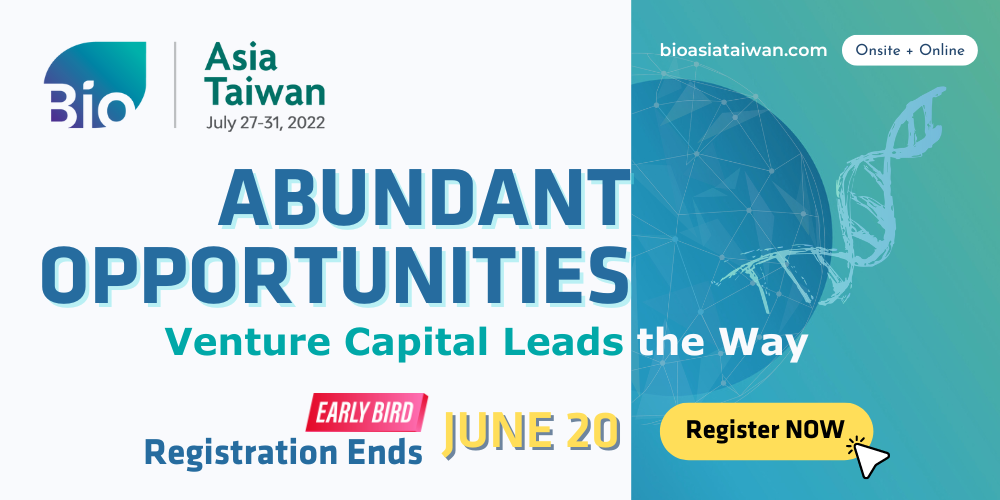 As the world emerges from the COVID pandemic, diverse opportunities are opening up for Asian bioindustry, a fact not lost on global venture capital.
At BIO AsiaーTaiwan 2022, keen insight from the WI Harper Group, PwC, 8VC, Canaan Partners, Domain Associates, and O'Melveny will be available in informative talks and engaging panel discussions, and a special session on Winning the Global Competition with Taiwanese DNA will be hosted by Taiwania Capital Management Corp.
Register now to get an advance sense of where biotech in Asia is headed, and take steps to position your organization in the Asian value chain today!
Hear from Experts
Session4: Exit Strategies for Early Stage New Drug Companies - Factors of Success
Join seasoned venture capitalists as they share experiences in funding early stage new drug companies and discuss exit strategies for diverse scenarios.
Distinguished Speakers From

Hear from Experts
Session9: Winning the Global Competition with Taiwanese DNA
Join a slate of promising Taiwanese biotech companies as they discuss their latest strategies to survive and thrive in a global competitive environment.
Distinguished Speakers From

Who should attend?
Venture capital and private equity seeking opportunities in Asian bioindustry.

Value-based biotech startups looking to learn more about funding and exit strategies.

Asian biotech companies exploring competitive advantages in a contested global environment.