加拿大人工智慧醫療及創新醫材應用交流會
Canadian Artificial Intelligence (AI) and Innovative Medical Health Solutions Exchange Forum
日期 / 時間:2019 年 7 月 26 日(星期五)09:30AM – 11:50AM
Date / Time: 0930am to 1150am, Friday, July 26, 2019
地點:南港展覽館一館 五樓 502 會議室
(台北市南港區經貿二路 1 號 5 樓)
Venue: Room 502, 5F, Meeting Room, Taipei Nangang Exhibition Center
(5F, No.1, Jingmao 2nd Rd., Nangang District, Taipei City)
主辦單位:加拿大辦事處/協辦單位:台灣生物產業發展協會
Organiser: Canadian Trade Office in Taipei / Co-organiser: Taiwan Bio Industry Organisation
今年的亞洲生技大會充滿了生技、醫材、人工智慧等多元因素,加拿大辦事處除了展覽期間有加 拿大館的展出(館位號碼 M514A)之外,更邀請了四間與醫院及癌症中心合作密切的加拿大研發 中心及新創醫材公司,將於 2019 亞洲生技大會展覽期間之 7 月 26 日上午在南港展覽館五樓會議 室舉辦《加拿大人工智慧醫療及創新醫材應用交流會》。此交流會由加拿大辦事處主辦、台灣生 物產業發展協會協辦,提供一個難得的交流平台,由五位加拿大專家針對加拿大生命科學產業的 生態系統、人工智慧醫療、創新影像分析、癌症診斷、醫院耗材與設備等方面進行分享。
此五位講者分別為 Optimizing Health Outcomes 的執行長 Dr. Durhane Wong-Rieger、加拿大卑詩省 政府商務及投資部主管 Derrick Lee、GenerationsE Software Solutions Inc. 捷易科技公司執行長 Jean Su、MEDICOM Taiwan 台灣麥迪康有限公司商務經理 Pasto Chan,以及 WORLDiscoveries 加拿大 西安大略大學技術轉移亞洲中心營運總監 Betsy Kuai。
誠摯敬邀您的蒞臨指教!
因大會提供的場地有限,僅能容納 40 位專家參與,我們誠摯邀請醫護專家、醫學院學者、生技產 業先進、生技創投專家,一同與加拿大公司及研發中心進行難得的兩小時深度交流。
報名額滿為止 First come first served!誠摯邀請您的參與,煩請把握機會完成線上報名: https://docs.google.com/forms/d/e/1FAIpQLScCrdChj4u74x4UHQBkAO3T- iqzmtl4QAWXagAA36fcyQyNjA/viewform
大會網站連結:https://bioasiataiwan.com/zhtw/satellite_event/detail/5
若需要任何協助或更多相關資訊,請聯絡:加拿大辦事處 Angela Lu 陸幼璋小姐
Email: Email住址會使用灌水程式保護機制。你需要啟動Javascript才能觀看它 / Office phone: 02-87233081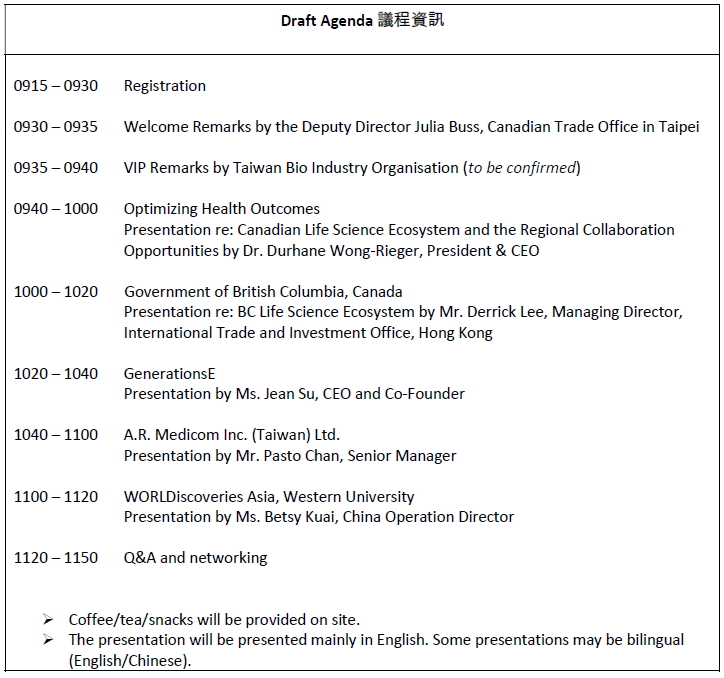 Canadian Company Profiles 加拿大講者資訊
Optimizing Health Outcomes
Website: www.optimizinghealth.org
About Dr. Durhane Wong-Rieger: http://www.irdirc.org/durhane-wong-rieger-elected-as-chair-of- the-patient-advocacy-constituent-committee/
Government of British Columbia, Canada
Website: https://www2.gov.bc.ca/gov/content/employment-business/international-investment-and- trade
GenerationsE Software Solutions, Inc.
Website: http://www.GenerationsE.com
GenerationsE develops AI-based pathology and endoscopy diagnostic solutions for precision medicine to cancer patients. GenerationsE partners with BC Cancer to develop their first product, DeepScene and it is under clinical study with hospitals in Vancouver and Kaohsiung. GenerationsE partners with Kaohsiung Medical University Hospital in Taiwan in April 2019 and hope to bring their solutions with better and faster diagnosis to cancer patients in Asia.
A.R. Medicom Inc. (Taiwan) Ltd.
Website: www.medicom-taiwan.com
The Medicom Group is a global healthcare company dedicated to enhancing, manufacturing, and distributing infection control, single-use and preventive products for medical, dental, industrial, veterinary and laboratory markets.
Medicom strives to provide distributors, professionals and their patients, the most trusted branded and private label product at outstanding value.
Medicom brings entrepreneurial passion to everything they do in order to create remarkable customer experiences.
WORLDiscoveries Asia
Website: www.worldiscoveriesasia.com
The University of Western Ontario is a top international M.D. class public university in Canada. The annual R&D expenditures exceed 250 million Canadian dollars, with 66 Canadian chief researchers
and more than 500 international collaborations. WORLDiscoveries (WD) is a subsidiary of UWO, which is the technology transfer office of UWO. WD is a leading university technology transfer office in Canada, and has established offices in Hong Kong and Nanjing. WD is the first and only Canadian technology transfer institution set up in China.