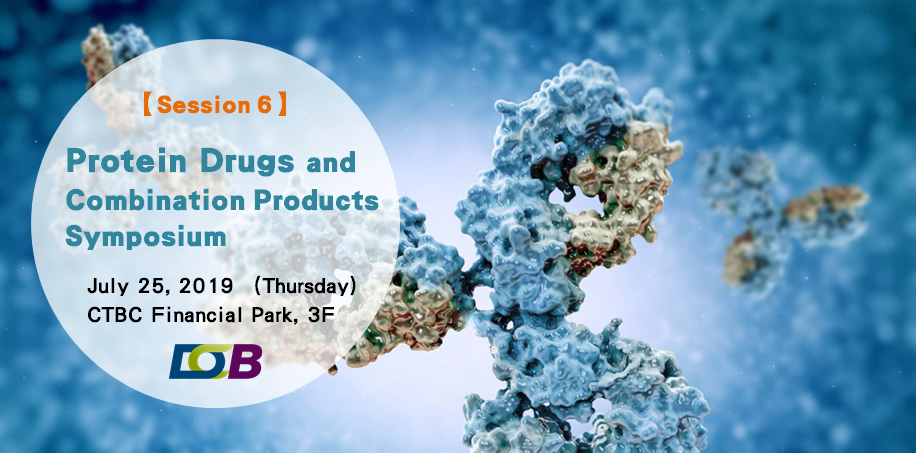 【BBA Session 6】
Protein Drugs and Combination Products Symposium
Global Biologics Market was valued at US$ 254.9 Bn in 2017, and expected to reach US$ 580.5 Bn by 2026 at a CAGR of 9.5 % during the forecast period from 2018 to 2026. The growth attributed is due to incessant expansion in product portfolio with increasing demand for biologics across the globe. Rising prevalence of chronic diseases, unremitting research and development activities and continuous investment in biologics contribute to the overall market growth.
Join us at the Protein Drugs and Combination Products Symposium to discuss the latest advances in the biologics field !
Curated by the leading minds across the biologics community, the event aims to share the insights and discussions on real life research, techniques, future perspectives, opportunities, and challenges in Protein Drugs and Combination Products development.
Time: July 25, 2019 (Thursday)
Venue: CTBC Financial Park, 3F, Building A
Registration: https://bioasiataiwan.com/zhtw/registration/plan
Organizer:

Ballroom B

14:00 – 14:05

Opening RemarksChung-Hsiun Wu, President, Development Center for Biotechnology

14:05 – 14:30

Protein Therapeutics and Combination Products Today and TomorrowJudy Chou, SVP & Global Head of Biotech, Bayer

14:30 – 14:55

Overview of Immuno-Oncology: Possibilities and ChallengesAlice Lin-Tsing Yu, Distinguished Chair Professor, Chang Gung University

14:55 – 15:20

Current Thoughts on Therapeutic Antibody Discovery & DevelopmentLarry Lo, Sr. Director, R&D, Corvidia Therapeutics

15:20 – 15:35

Break

15:35– 16:00

Self Injection Technology for Biotech Product
Markus Bauss, Managing Director, SHL Connect, Taiwan

16:00 – 16:25

Advanced Platform Technologies for Biotherapeutics Development
Wei-Kuang Chi, Vice President, Development Center for Biotechnology (DCB)

16:25 – 16:50

Patent Considerations for Protein Drugs and Combination Products
Amanda Murphy, Partner, Finnegan, USA
Michael Liu Su, Associate, Finnegan, USA

16:50 – 17:30

Panel Discussion
Moderator: Judy Chou
Panelists: all speakers above
※The organizer reserves the right to change the event